Keith, a University of California, Davis-trained geologist and student of viticulture and enology, set about clearing the land by hand, drilling wells and planting vines. ReNae, who studied accountancy, would make the long treks from the their home in Redmond, Washington each weekend to battle the wind, heat and snakes and learned to fit irrigation pipes.
Together, they figured out how to grow grapes, make wine, sell wine and stay married. That's the version of the story we tell to most people. To you, we'll tell the real story.
To begin, you need to know a few things about them. Keith grew up in Napa, running through the caves at Beringer, spending his pocket money on new releases (that his parents would safeguard until an appropriate age) and generally thinking wine was a pretty remarkable thing. Living so close to the Pacific, he also loved being on the water whenever possible, sailing. ReNae? She's pretty much fearless and as long as she's actively pursuing a new idea, she's happy.
When they were first married, Keith's career as a consulting geologist meant that he travelled a great deal. For a young married couple, the separations were a lousy way to start a new life together.
So one night, Keith suggested he quit and that they start a business together. He presented ReNae with two ideas. The first? They would operate a charter sailing business. Not an avid sailor, ReNae pressed him to define her role in that venture. He jokingly said, "Ah, you could cook and clean for the guests."
"What's your other idea?," she asked. Turned out to be Terra Blanca.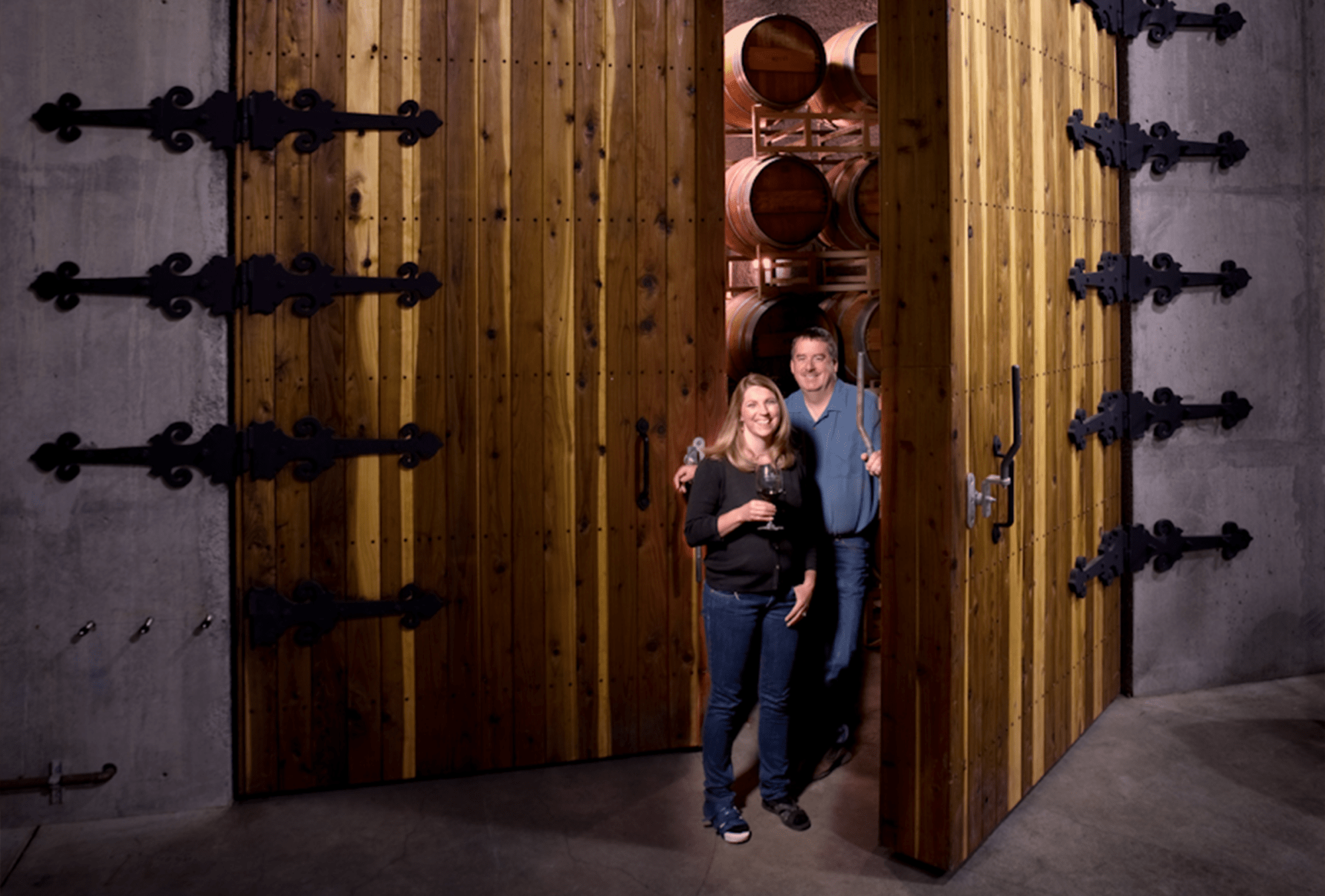 300 acres of Red Mountain property were purchased in 1992. Development of the winery and estate vineyard began in 1993. Transformation of what was once arid land featuring solely soil, sagebrush and bunch grass was officially underway.
In the same year we released our very first estate-produced vintages of wine, our first set of barrel caves were built. Created from the discarded large cement cylinders from the LIGO project, they were dropped in by a large backhoe and then covered, and enclosed. 
Terra Blanca's first tasting room officially opened, running out of the Pilgrim's house. Plans for the current building would be in development over the next few years, with construction beginning in 2001. 
Construction on the new facility officially began, entering a new era for Terra Blanca. This same year Red Mountain was officially established as an official American Viticulture Area (AVA).
Construction of the new facility and barrel caves was completed and ready for use. The Grand Opening was held in February of 2006 and has been the home of Terra Blanca ever since.